Owning an investment property in Bellevue is an excellent way to generate additional income. The Bellevue, WA, rental market is in-demand—but without the right professional help, you could lose money on your investments.
Maintaining investment properties is a lot of work: it takes a unique set of skills and a wide range of expertise to handle everything involved with a rental property. From listing to leasing to maintenance and residents, you might quickly find yourself overwhelmed with the demands of your rental homes.
How can property owners make sure they get the most out of each investment property, stay competitive among a high volume of rental properties, and manage everything for every property on a daily basis? Real Property Associates provides professional property management that can be your answer to all of these landlord pain points—and more!
Marketing and Leasing
If potential renters can't find your Bellevue property, you don't make money. Every profitable investment property begins with professional marketing and leasing services.
Exposure Is Everything
Real Property Associates understands the critical components of a successful property listing that actually appeals to your future residents. We also know where to advertise it! We include the essential information about your property, along with a description that will attract potential renters who want to see more of what your rental home has to offer.
With a compelling listing and professional photos, it's time to spread the word about your available property. Our comprehensive marketing and leasing program:
Ensures maximum exposure of your rental

Helps find the best possible renter at market rents

Offers property showings conducted by licensed real estate professionals

We're available when potential renters need us—even evenings and weekends!
Property investors cannot afford to overlook professional marketing to maintain occupied properties in the competitive Bellevue market! Our team understands how to reach your ideal renter with our professional marketing services. Our goal is to minimize the time your properties sit empty between residents—and we're pleased to offer the very best marketing for your residential properties.
Custom Lease Agreements for Each Property
When we find your ideal resident, they need a rock-solid lease agreement. If paperwork isn't your thing, we've got it covered! Our leasing services follow all local and federal regulations for residential rental properties.
We create and enforce legal lease agreements for all new renters in your properties.

If a renter violates the rules of the lease, we apply fees or penalties as outlined in the agreement.

When it's time to renew, we provide market-rate rental renewal notices to your residents.
Renewing a lease helps our property owners make more money on their investments. While we can quickly get a new quality resident into your property, renewing a resident saves the time and expense of marketing and screening a new renter for your property.
Screening Your Renters
If the wrong residents get into your property, they can be hard to get out! Real Property Associates applies a thorough tenant screening process to avoid placing a bad renter in your investment properties.
Bad renters don't pay the rent on time—if they pay it at all. They don't follow the rules outlined in the lease agreement, and they often cause damage to properties. In some of the worst renter situations, they abandon a property without giving notice—leaving property owners with a mess to clean up after you discover that they're gone.
We don't rely on an application that looks "good" and an interview with a potential renter that goes "well." We dig beneath the surface of what's on paper and in person! Our screening process includes:
Working with our property owners to create an ideal renter criteria

Detailed employment, credit, criminal, sex offender, and rental background check

We make contact with references and previous landlords to verify a potential resident's rental history

Income verification to confirm that a renter can pay the rent every month on time.
If your property allows renters with pets, we screen pets, too! We understand the financial damage and stress involved if a bad renter moves into your property. While there are no perfect residents, Real Property Associates never allows a renter to move into your property until they pass our screening process to meet your ideal resident criteria.
Rent Collection
With the advanced rental technology we use in our property management services, we've got our landlord partners covered! Real Property Associates will collect rent, so our property owners have the peace of mind and freedom that comes from reliable passive income. On-time rent collection is what provides steady investment income for our Bellevue property owners every month!
Cashflow is critical when maintaining any number of investment properties. When the rent is late, your cash flow suffers. Our online renter portal makes it easier for your residents to stay on top of their monthly rent payments.
Renters can set reminders and pay the rent online—on time—every month.

We also stay on top of rent payments every month and follow-up with late rent enforcement.

Our owners receive a detailed and timely monthly management statement to confirm completed monthly rent collection.
Landlords can spend a lot of time chasing down late rent payments: it's not a good use of your time! Owners and tenants can enjoy a streamlined process for paying the rent when you choose Real Property Associates.
Maintenance Services
Providing excellent maintenance services is one of the best ways to retain residents. Many renters can get frustrated when their rental home falls into disrepair, or their emergency repair requests don't receive a prompt response and a quick fix.
Real Property Management understands that your real estate portfolio is only as strong as the condition of your properties. Bellevue-area renters are smart! They don't rent poorly-maintained properties or deal with property management that isn't responsive. We offer:
Resident maintenance requests via phone, fax, or our website

Prompt 24/7 response and repairs carried out by professionals

Regular property inspections and routine preventative property maintenance

Vetted contractors to provide quality cost effective repairs and routine maintenance.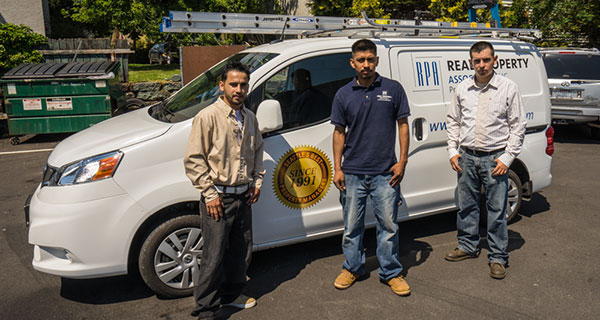 Certified Maintenance Technicians
The Bellevue property management company you work with must prioritize maintenance. It can't be an afterthought or a "to-do" that never gets done. Your Real Property Associates team makes sure your properties are safe for your residents, and our maintenance services keep them happy!
Compliance
How can property investors keep up with local, state, and federal landlord-tenant laws? It's tough without the right experts to manage your Bellevue rental property. Real Property Associates has the local expertise and the property management experience to keep your properties in compliance with changing regulations.
We stay up to date on changing legislation to:
Make sure your rental property is in compliance with local, state, and federal laws

Update lease agreements or other legal documents to comply with all current regulations

Follow all fair housing laws to accommodate renters with a disability and provide non-discriminatory renter screening practices

Follow current privacy laws when handling renter background and personal information.
Real Property Associates will never put your properties in jeopardy of violating landlord-tenant laws. You can trust our team to stay current and legally compliant!
We Are Puget Sound's Leader For Full Service Property Management
Since 1991, Real Property Associates has been the leader for full service property management for investment properties located in Bellevue. Our processes and procedures have come a long way since those days because we consistently adapt to the needs (and wants) of today's property owners and renters.
Let us exceed your expectations and help you reach your long-term financial goals. Free yourself from the day-to-day management tasks that cost you time and money when you work with Real Property Associates!