As the best property management Edmonds offers investors, we know that owning investment properties in our area doesn't need to be stressful or take away from your free time.
When choosing a way to build your long-term wealth, operating rental properties is one of the best ways to benefit from dependable monthly income—yet the idea of dealing with property maintenance and unruly renters can discourage people from jumping into real estate.
What if there was a way for property investors to enjoy long-term monthly income without the hands-on work of managing rental properties? There is a way—when you hire expert property management, Edmonds landlords!
You might have a few questions about Edmonds property management before deciding if owning investment properties is right for you. If you already have a rental property, and the DIY landlord work is overbearing, you might have these questions, too!
What does a property manager do?
How do they help property investors?
Is a property manager worth the expense?
How can I choose the right management company?
We're here to walk you through the answers to these questions and help property owners enjoy investment income—without getting bogged down by the daily tasks of managing your properties!
What Does a Property Manager Do?
The best Edmonds property management does everything you need—and probably a few things you didn't know you needed until you discovered the perks of professional property management.
When looking for the right property manager to fit your needs, consider everything you do, and compare those tasks to what your potential management partner offers, including:
Marketing your property: Every property in your portfolio needs a compelling listing and professional photos.
Screening and placing quality residents: Any renter out of the blue isn't the right person to place in your investment properties. Choose a property manager with a thorough screening process and a track record of choosing only the best residents for rental property owners.
Professional maintenance services: Your property manager should have a list of vetted contractors and a plan for conducting year-round maintenance and inspections for each of your properties.
Financial reporting: Property owners should never wonder if their investments are generating profits. The best property manager keeps you informed with regular, real-time financial reports for each investment property.
Our Team—Over 15,000 Tenants Served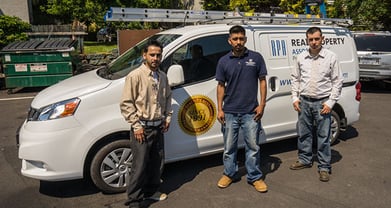 Certified Maintenance Technicians
What About the Rent?
Collecting the rent consistently every month seems like a routine task, but it's one of the essential functions of your Edmonds property manager.
How many times have you had to chase down a late payment from a resident—or two? It's a time-consuming hassle to remind renters to pay the rent. After you gather monthly rental payments, if you don't have time to run by the bank and deposit rent checks (or securely take pictures of them with your phone), your cash flow suffers.
What happens during a crisis? In a financially challenging time, your residents might struggle to pay the rent. What's the best way to enforce rental payments while working with residents experiencing job loss during an economic downturn?
When you have professional Edmonds property management working for you, property owners never have to worry about the rent. We have:
An online payment system that encourages residents to pay electronically (instead of by check)
A processing system that helps us pay the property owners we serve fast
A plan to help residents who struggle with rental payments in difficult financial times.
Protecting your investments is our priority! Providing a simple, secure way to collect the rent helps you receive steady income every month.
How Does a Property Manager Help Investors?
We've talked a lot about what we do, but how does the best property management Edmonds offers help investors?
If we do it, you don't have to! Plus, while we handle the day-to-day tasks of running your Edmonds rentals, you don't have to wrangle your residents and properties—you simply enjoy the income.
You Get Your Time Back
If you've managed your own properties for a while, you know it's a time-consuming way to earn investment income. Maintaining properties and answering resident requests after hours takes away your free time in the evenings and on weekends.
The money might be good—but is it worth losing your freedom? Hiring a property manager returns that freedom to you.
Relax after working your full-time job every day.
Spend weekends with friends and family instead of fixing a plumbing problem at one of your properties.
Take that road trip together as a family you've wanted to take: you're no longer trapped by the responsibilities of owning rental properties in Edmonds!
When property investors realize their time is more valuable than spending it on the daily tasks of maintaining profitable rental properties, hiring an Edmonds property manager makes good sense!
You Get More Money
Working with an Edmonds property manager isn't free; there are fees involved. However, most property investors find that shifting the daily workload of managing properties to a professional property manager is a smart investment.
When you benefit from efficient processes, timely rent collection, and the expert Edmonds property management experience, you'll see a boost to your bottom line.
Property managers:
Make sure property owners set the ideal rental rate for each rental. The wrong rate can cost you money!
Perform routine maintenance to help avoid costly repairs
Are a tax deduction when it's time to finalize annual rental property business taxes
Investing in the right professional property management, Edmonds landlords, helps property investors improve their profits!
Choosing the Right Edmonds Property Manager
Not every property manager offers the same services—or the same level of quality service. Choosing the best property manager for your needs can make a significant difference in how you benefit from your long-term investment properties.
Be sure your Edmonds property manager has:
Plenty of local experience
Has an excellent track record of low resident turnover
Stays up to date with current local, state, and federal landlord-renter regulations
Manages the type of properties you own, from single-family to multi-family residences
Has a reputation for providing quality housing and customer service to residents and property owners.
There's more to hiring the right property manager than finding a company that collects the rent and repairs problems as they happen! Property investors who choose an Edmonds property management partner that commits to providing the best service to meet your goals will generate more long-term income through rental property investments.
Trust Only the Best Property Management, Edmonds Investors!
Turning your rental property assets over to a third-party management team can be a tough decision. If you've managed your properties on your own for a while, letting go of the hands-on work might make you nervous!
The right Edmonds property management partner will ease your fears—and quickly help you see a boost to your profits! Choosing expert property management puts your properties in the right hands and helps property owners trust in the management team they've chosen to successfully nurture the future of their portfolios.
We're here for you! The team at Real Property Associates understands the value of your property assets. We also know that expert-level management of your Edmonds properties and residents creates the income you need for your future. There's no risk when you partner with us for the success of your portfolio!
The future of your investment properties should never be in doubt under the care of the right management team! Real Property Associates takes care of everything, from marketing to resident screening and placement, maintenance—and everything in between. Investors never need to wonder about how to collect the rent or the financial (or physical) status of your portfolio.
Know you're getting the most out of your investments with Real Property Associates! Let's get started with a Free Rental Analysis!