If you're starting as a new real estate investor—or thinking of growing your portfolio—what's your plan to maintain your properties? Many new investors begin as DIY landlords. While self-managing a property can be an excellent way to get your feet wet in the business, it's not a long-term strategy if you want to build significant wealth through real estate.
Choosing a property manager is one of the best investments you can make in the success of your portfolio. When you hire professional property management, Everett property owners, your income grows without you doing the work! However, not just "any" property manager is the best fit for your investments.
If you enjoy the profits from your rental property, the right property manager can help you enjoy more profits from your current properties—and your next properties! Here's how Real Property Associates serves the Everett area and helps property owners boost their bottom lines.
Expert Marketing
Marketing your properties isn't as simple as posting a "for rent" notice online and placing a sign in the yard. Everett is a competitive rental market! If you don't know how to make your property stand out from the competition, you risk months of vacancy and lost rent.
Our comprehensive marketing and leasing program ensures the maximum exposure of your rental. It also gives us the ability to choose the best possible renter at market rates. Marketing your property is not merely a way to find "a" resident for your rental—it's the necessary process of choosing the best renter to pay the best rental rate throughout their lease term.
It Starts With a Professional Listing
You'll never find the right residents if your property listing doesn't attract a quality selection of potential renters. From the description to the professional photos, your property's listing has to "sell" your property to your ideal next resident.
Your listing has to catch the eye of a renter and encourage them to apply for your property. It's most than a list of details. When we create a compelling listing, it includes:
Your property's stats:

square footage, number of rooms, and other property details.

Your property's story:

what makes your rental the best place to live for renters in Everett?

Your property's status:

nearby attraction, neighborhood amenities, and other lifestyle information.
You can have the best property in the neighborhood—but without the right listing and property marketing, you'll attract the wrong renters or deal with an empty property. Too many months without rent means you lose significant income!
We Show Off
We don't just "show" your property; we show it off! Our team conducts all showings by licensed real estate professionals—even during evenings and weekends! When social distancing requires different practices to show your property, we accommodate potential residents with the safest protocols to showcase your property.
Choosing the best residents for your property is easier when you have a team to market your rental and screen your new residents professionally.


Professional Resident Management
That's right! We don't "choose" a resident. We screen and select the best resident for your Everett rental property!
When it comes to placing a stranger in your rental, we don't want that new resident to truly be a stranger. We put each applicant through a careful screening process to learn as much as we can (within the law) before selecting the best resident for your property.
Screening Is Never an Option
Choosing the wrong resident can be a more expensive problem than dealing with an empty property for another month. Bad residents refuse to pay the rent, cause property damage, and can be costly to remove from a rental after they move in.
We never skip the screening step—no matter how good a potential resident looks on paper or sounds in conversation. Every applicant goes through our screening process. Then we compare what we find to the preset criteria we develop with our property owners for their properties.
Our approach to property management, Everett landlords, includes a detailed screening process 100% of the time. We investigate:
Employment and income verification

Credit history

Criminal history, including sex offender checks

Prior rental history

Reference check
We also require a valid ID before we begin the process. It's critical to know who we place in your home before we allow a new resident into your property. While we follow all regulations according to fair housing and anti-discrimination laws, we leave no detail behind when researching a potential resident for your property.
We Encourage Good Residents to Stay
A thorough screening process will consistently produce quality residents! When we place excellent residents, we want them to stay in your property beyond one lease term. Property owners make more money when residents renew, rather than going through the screening process every time a lease term ends.
You save money when you don't need to manage another round of turnover for your property. You don't risk a month (or more) of vacancy until we can place another excellent resident. Plus, many times, we can increase the rent during a renewal.
You Make More Money
When it's time for a resident to renew, we review the rent and compare it to the market. If the market supports an incremental increase, we include that higher rate when sending renewal notices to residents.
Most residents will adjust to a slightly higher monthly rent amount when it's time to renew a lease. If property owners offer excellent property management and maintenance services, Everett residents will often choose to stay for another lease term rather than spend the time and money looking for a new place to live—even when the renewal includes a small increase to the rent.
On-Time Rent Collection
Finding the right resident is excellent, but you don't make money until they start paying rent! On-time monthly rent collection helps property investors receive steady income every month.
We do our best to make it easy for residents to pay the rent. Using an online payment system and our late rent enforcement protocols helps us reduce the number of delayed or nonpayments. When we collect the rent on time, our property owners benefit from on-time payments, too!
Everything Else—Expertly
Property management isn't only about finding residents and collecting the rent. We handle every aspect of making your properties profitable for as long as you keep them in your portfolio.
Our Team—Over 15,000 Tenants Served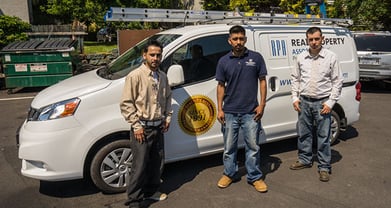 Certified Maintenance Technicians
Our services also include:
Detailed and timely monthly management statements:

You'll never have to wonder about the status of a property or your portfolio's income.

Handling resident maintenance requests:

We accept requests by phone, fax, or the resident portal. Our network of vetted contractors helps us respond to all requests promptly and thoroughly.

Assuring your rental property complies with local state and federal laws:

You don't have to worry about codes or regulations. That's our job!
Everything we do as professional property managers ensures that our property owners generate the income they need from their portfolio. You don't have to worry about anything with Real Property Associates managing your investments!
Making Your Next Best Investment
Your rental property or growing portfolio is ready to do more for you! Choosing only the best property management, Everett property owners, means you can see more profits sooner rather than later!
Real Property Associates has the expertise and experience Everett property owners need to market your property and find the best residents. Let's get started with a
Free Rental Analysis!