Do you know how to make money from a rental property? If you're considering your first investment property—or you recently inherited a property—you need a plan to make it profitable! Making money from a property portfolio isn't as easy as you might think. It's more than simply finding a renter and collecting the rent!
When you own investment properties in Seattle, you don't need to be an expert from day one—or even on day 365! The best Property management Seattle has to offer can manage your first (or next) property as your experts from the beginning and beyond.
What does it take to manage a property in Seattle? It's a combination of three key areas: Marketing, Maintenance, and Management.
Marketing
Seattle is a competitive rental market.
To find the right residents and generate a rental payment every month, you have to be smart about marketing your property to the rental population.
If you're a new landlord or you aren't having success with a property you've had for a while, take a look at your marketing strategy.
Before you can find quality renters and generate a profit, you have to know what your property has to offer, how that matches what renters want, and where to look for the best quality residents!
The Price Must Be Right
An overpriced rental property can make it difficult to find renters.
An under-priced property can work against your long-term income goals.
Either way, you lose money:
If you can't find a renter, your property sits empty. An empty property doesn't make money
If you have a resident but your rental price is too low, you also lose money every month.
When you have an understanding of what your property offers and the amenities that Seattle renters look for in a home, you can compare your property to the other similar properties in the neighborhood. This kind of rental analysis helps you determine the best monthly rent for your property. From there, you can develop a compelling property listing!
Aggressive and knowledgeable marketing skills are just one of the reasons why seeking the best property management Seattle has to offer is going to yield results for your portfolio!
The Listing Must Bring the Best Residents
Creating an effective property listing is an art that also requires critical details about your property. Along with the description, you need exceptional, high-quality photos. With a professionally-written listing and expert photos, you're ready to advertise your property!
Your listing helps your property compete with other similar rentals in the area.
To reach your ideal residents, your property listing has to stop a potential renter's online scroll.
The goal of your property listing is to make them want to see your rental in person!
Marketing might sound like a lot of work, but the time and care you put into your listing and advertising will reward you with quality residents who pay the ideal price for your rental property. If marketing isn't your best skill, professional property management Seattle has locally can handle it for you! Your property manager knows how to provide:
Prime advertising

that helps the right potential residents see your property
In-depth pricing research and advertising strategy to reduce vacancies
Prompt application and lease processing that strengthens relationships with residents from the first contact.
Marketing is the first impression your property makes on a potential resident. Make sure you think like a pro when putting together a listing that delivers!
Maintenance
If it ain't broke, you probably don't need to pay any attention to it, right? With rental properties, that saying is rarely true!
Your investment property is a significant asset.
As with anything of value, you want to take good care of it to make sure it stays in excellent condition.
As a landlord, you also need to provide a safe living environment for your residents.
Property maintenance is much more than merely fixing things that break when your residents let you know about a problem! The excellent property management Seattle has to offer will always suggest regular inspections and preventative maintenance before something has become a full-blown problem. Long term, this saves you money as the investor!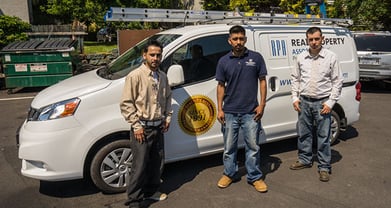 Certified Maintenance Technicians
Save Money
One of the best ways to save money on expensive repairs is to check in on your property throughout the year.
Prepare your rental for the changing seasons and other issues that can come as a result of neglecting simple home maintenance tasks.
If you don't live near your property—or you don't plan to make a switch from your full-time job to being a landlord—you need help to keep up with scheduling and performing inspections and maintenance.
When you hire the best property management Seattle can provide, you have a team that handles these critical tasks for you:
Detailed inspections for move-in and move-out
Certified Maintenance Technicians on staff for property routine maintenance or repairs
Inspections mid-lease to ensure ongoing maintenance
Full-service maintenance management reduces owner headaches.
When you don't have the time to do these things yourself or schedule outside contractors, your property can fall into disrepair. Relying on the professionals in Seattle management removes those issues for you while keeping your property in great shape!
Handle Emergencies
What about those middle-of-the-night emergency calls from your renters? When a pipe bursts or a toilet breaks on the weekend, someone needs to answer that call and repair the problem right away.
Thankfully, the best property management Seattle can provide will always have a maintenance team available to solve emergency issues—24/7! They handle the calls and make the repairs so you and your residents can rest easy.
Management
After marketing and maintenance, there's still plenty left to do to make sure you have a profitable rental property! Check out what the experts in Seattle property management provide for your rental home:
Your Renters
Your resident management relationships start with the screening process.
A potential renter can have a glowing application and seem like a nice person when you meet them.
However, without a

thorough screening process, you won't know if the ink on their paperwork and their smiling face accurately represent who they are!
Excellent resident management also includes:
Timely rent collection, including providing an online rental payment system
Quick resolution for late payments
Handling resident requests promptly
Enforcing the rules according to the lease agreement.
As much as you hope your residents will always pay the rent on time and never break any rules, landlords still have to be proactive about making sure that happens.
Seattle and Beyond
Seattle has plenty of restrictions and regulations for landlords to follow these days. Rental property owners must also follow state and federal regulations for screening potential renters, responding to reasonable accommodation, and providing a safe place to live.
It can be challenging to keep up with the changing legal landscape when it seems like some new restriction is handed out every year! However, an expert Seattle property manager helps your properties by coordinating the day-to-day management that keeps your properties operating comfortably within the law. It's just another reason why finding the best property management Seattle has to offer is so crucial!
Financial Goals
How do you know if your property is making money?
Have you paid all of your rental property bills this month?
Are you on track to meet your long-term financial goals?
These key questions are still a part of your rental property management!
When you work with the best property management Seattle can provide, your property management expert tracks your income and expenses and makes sure you see regular financial reports. You should never have to wonder about the status of your financial goals!
Don't Let Your Properties Manage You!
Your rental property can quickly get away from you if you don't have the time or skills to stay involved day-to-day. If you find yourself struggling to find good residents—or to make a profit from your property—seek out the best property management Seattle has to offer and get yourself back on track. However, don't settle for "just any" property manager!
Real Property Associates has been Puget Sound's property management leader since 1991! Our approach helps rental property owners see financial success from your investments while freeing you from the day-to-day management tasks that cost you time and money.