What makes the best expert property management companies stand out from the rest? When choosing from available property management, Tacoma investors need to look for the right services—and a team that can help increase the revenue from your real estate portfolio.
Many property managers collect the rent, find renters, and find someone to repair a maintenance problem—but rental property residents and owners should expect more than just "status-quo services."
Property owners need expert Tacoma property management that:
Enforces rental payment deadlines and processes rental payment quickly to pay owners.

Markets to and thoroughly screens applicants to place the best quality renters in your properties.

Provides professional preventative and emergency maintenance services to your residents—day or night.
Real Property Associates leads the industry with excellent, full service property management in Tacoma! Here's why real estate investors don't need to settle for "just any" property manager.
Marketing and Leasing to Maximize Exposure to Your Properties
If residents can't find your properties, you lose money! An expert comprehensive marketing and leasing program ensures more potential residents see your rental. Plus, we apply marketing strategies that target your ideal renter.
When we have high-quality, potential residents to choose from, we can select the best possible renters for your properties at market rents. Choosing from the best of "acceptable" applicants isn't acceptable. We market your properties to give us plenty of high-quality options when placing your next resident.
It Starts With the Listing
It's more than posting an ad with the critical details about your property! A compelling listing with professional photos helps the right potential residents stop scrolling to learn more about your property!
Details help applicants know the size of the property, number of rooms, the monthly rental rate, and if you offer onsite parking. However, an excellent listing must go much deeper than that. Professional property listings help "sell" your rental to your ideal resident!
We tell a story about your property with:
Descriptions of the home and how it appeals to your target renter's lifestyle in Tacoma

Details about the surrounding amenities, including schools, parks, hot restaurants, and retail

Photos that capture your property's best angles and features to help your renter see themselves there

Perks about the community and why people love the particular neighborhood in Tacoma they call home.
In a competitive rental market like Tacoma, WA, boring listings don't catch anyone's attention. Hiring expert property management, Tacoma property owners, helps bring more attention to your rental through a professional listing with eye-catching photos.
We're Available When They Are!
Expert marketing goes to waste if potential renters can't see your property. In most cases, your future resident works during regular business hours—even if that's from home!
Falling in love with your rental property starts with the online listing, but seeing it in person often helps your next residents know they've found their next home. We make ourselves available after hours to conduct showings when your potential renters have time to see your property—even during evenings and weekends!
Screening Renters Protects Your Property—and Your Bottom Line
It's never worth the risk of your investments to place a new resident in your property without a thorough screening process. Even if you're facing another month without a paying resident in your property, taking steps to run the right background checks and vet a potential resident can protect your property and investment income.
We take our screening process very seriously!

"Professional Tenants" are challenging to deal with after they move into your rental.

Preventing a problem is better (and less expensive) than dealing with a problem resident after they've signed a lease and begin living in your property.
We Don't Skip Any Details
Professional Tenants don't pay the rent. They also cause damage to your property, disregard the rules, and in some cases, they abandon your property without notice. Property investors can avoid cleaning up that kind of a costly mess when you trust the kind of expert property management Tacoma rental homes need to handle your resident screening process.
Before we select a resident for your rental, we work with you to define the criteria for your ideal resident. This includes income minimums, credit score requirements, credit history details, and whether you'll allow pets or not. We then run every applicant through the same process and compare everyone against the same criteria. Our process includes:
Detailed employment checks, including income verification

Credit history, including an applicant's credit score

Criminal and sex offender background checks

Rental history verification.
Choosing a new resident requires fair screening practices to comply with fair housing regulations and privacy laws. With an expert property manager, we provide the guidance you need to screen and choose a new resident while maintaining legal practices.
Monthly Rent Collection Means Consistent Income
When residents sign a lease agreement, they agree to pay the rent every month—on time. However, sometimes renters forget a payment or decide the rent isn't due this month. In some situations, financial or economic circumstances can make it difficult for residents to afford their monthly rent due to income or job loss.
Property owners have to remain sympathetic to resident circumstances, but that doesn't change the universal rental payment rule: the rent is always due.
You Don't Have to Enforce the Rules
Chasing down late rental payments is time-consuming and frustrating for property owners. You need a Tacoma property manager that handles late rent payment enforcement for you!
No matter the reasons for a resident to delay a rental payment, we can help make it easier for renters to pay the rent every month. When the rent comes in on time, property investors can depend on steady monthly income!
We'll even handle the notices and communications with residents when it's time to apply a rental rate increase. Property owners never have to handle this side of their business with expert Tacoma property management in place!
Professional Maintenance Makes Residents Happy
Very few things frustrate a resident more than not being able to put in a maintenance request (or get a response) after hours. However, property investors don't need to sit by the phone and take maintenance calls!
Following through on professional maintenance services keeps residents happy and safe in your rentals.

Preventative maintenance and timely repairs also protect your investment properties for the long haul.

With professional property management in Tacoma, residents can submit maintenance issues via phone, fax, or website—and receive a prompt response, even after hours.
Poor maintenance practices are the number one reason why you'll experience resident turnover—and the costs associated with it. Avoid this completely by relying on the best property management Tacoma offers property owners!
Our Team—Over 15,000 Tenants Served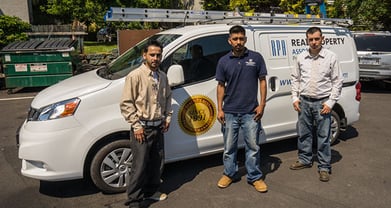 Certified Maintenance Technicians
Compliance and Reporting Keeps Investments Safe
Keeping up with local, state, and federal rules for habitable rental properties, anti-discrimination laws, and eviction processes can be overwhelming. However, violating a rule can lead to expensive lawsuits—and losing properties and income.
As expert property management in Tacoma, we follow the rules for you!
We stay up-to-date on the laws to make sure your properties and business practices remain compliant.

We also provide our property investors with detailed monthly financial statements.

We watch the numbers and make sure you have the reports you need to stay on track!
You never need to wonder if your rentals are making money or if your income is in line with your long-term financial goals.
Boost Your Investment Success With Property Management, Tacoma!
Only the kind of expert property management Tacoma rentals need does everything property owners require to boost their investment success! At Real Property Associates, our team is committed to providing a level of service far beyond the status quo. Investors never need to worry about finding residents, collecting the rent, fixing maintenance problems, or analyzing finances.
Real Property Associates has the local expertise you need to manage your real estate portfolio and grow your long-term wealth! Let's get started with a free quote!