Property investment—no matter if it's your first or your fifth—requires a specific set of skills to make it profitable. While renting out your Ballard properties might seem like a straightforward process; strategic planning must occur to maximize your investment.
As a property owner in Ballard, you'll find this is an excellent way to generate additional income. However, you risk losing money without enlisting professional Ballard property management services! Managing properties in this unique part of Seattle is about more than finding high-quality residents and collecting rent on time. You must also have the skills needed to:
Draft a high-quality lease

Create and promote property listings

Manage property maintenance to the highest quality
And so much more!
One of your best decisions if you seek sustainable, long-term growth is enlisting the aid of expert management services for your Ballard rental properties. Utilizing these services means your property management company is handling every detail for you while you reap the benefits of success.
Advertising and Marketing Expertise
If potential renters don't know about your investment properties, they're going to remain vacant. Advertising and marketing your properties involves so much more than placing a 'for rent' sign on the lawn and waiting for phone calls to start coming in. Instead, you must have a professional marketing team on your side to get eyes on your Ballard rental properties!
By taking these strategic steps, a team like Real Property Associates is helping to maximize the exposure for your rental property. Creating this kind of exposure allows our team to apply our years of experience and select the highest quality residents for your property. That way, you don't have to pick the first renter inquiring about your property. Instead, you can be selective and find the best renter that meets your criteria.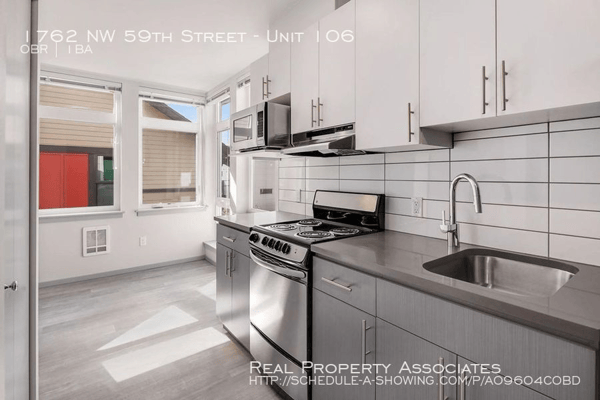 Attract Quality Residents Using Professional Listings
Our team of skilled Ballard property management professionals knows everything about creating high-quality listings that get attention. However, our work doesn't end there: the listing for your property must shine! We make sure it includes high-resolution photos, walkthrough videos, and detailed descriptions. We make it our mission to catch the eye of as many potential renters as possible and encourage them to apply.
Our listings contain the following information:
Critical facts:

The description contains the data that potential renters are looking for, including the number of bedrooms and bathrooms, the property's total square footage, how much storage is available, and information about the grounds.

Attention-grabbing details:

Ballard residents want to know why your rental property stands out compared to the competition. We include details about commuting, area attractions, the neighborhood, local schools, and more.

Comparative data:

These details help sell the property to a potential renter. They want to know why living at your rental property is going to be the best home.
After creating the listing, we use our advertising and marketing expertise to promote it on listing sites, social media, and more. No one wants to deal with an empty property—so we use these strategies to create the best listings and attract high-quality residents.
Professio
nal Property Showings
While the listing drives potential renters to inquire about the property, the showings are what helps close the deal. Our Ballard property management experts schedule showings and then conduct professional walkthroughs for you. 'Showing off' your Ballard rental properties is crucial to encouraging potential renters to secure a rental.
Typically, renters want to see properties during business hours. Our team of experts knows that your time is valuable and that listings are worthless without professional property showings.

With our expertise, we guide potential renters from falling in love with the listing to feeling even more excited about it when walking through the property in person.
What Else Does a Property Management Company Do?
Our specialist experience can handle so much more than marketing and advertising your home rentals, Ballard investors! We also work diligently toward ensuring we're meeting all your needs as a property owner. You might not realize you have some of those needs until you enlist the help of an expert property management team for your Ballard properties.
Professional Lease Writing
You must have a professional and well-written lease to present to new renters. Otherwise, you're putting your property investment business at risk. Using our expertise, we draft leases that protect your investments while following Washington's laws. In addition to writing your leases, we also work to:
Enforce lease agreements with each of your renters

Apply fees or other penalties if renters violate the terms of the lease agreement

Write renewal notices when leases are about to expire that contain updates as needed to the rental rate.
While attracting high-quality renters is integral for the success of your business, we also know that retaining them with an attractive renewal is just as essential. Renewals not only save time, but they help save on marketing, advertising, and turnover expenses as well. Great renters are always worth keeping!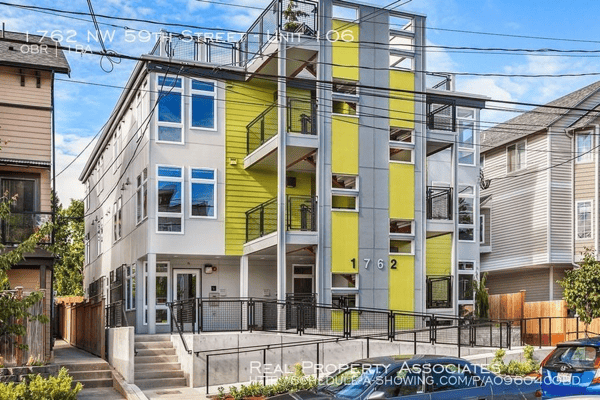 A Thorough Screening Process
The best way to attract and close deals with the highest-quality renters is by conducting a thorough screening process. Otherwise, you're running the risk of bringing in the wrong resident—and losing money. Instead of depending on first impressions or how an application looks, we use the following strategies to screen potential renters:
When meeting with our property management team, you'll work with them toward developing rental application criteria and requirements.

We complete thorough background checks for every application, including criminal, rental history, and sex offender registry checks.

Our team verifies the applicant's rental history that they list, as well as what turns up in the background check.
This screening process also includes if the potential renter has pets. We inquire about all pets on the application and then require applicants to go through a pet screening process.
Professional Rent Collection Services
One of the most critical responsibilities of your property investment business is collecting rent. We make rent collection easy for your residents with our online Renters Portal. When residents use this portal, it encourages them to:
Set up an electronic payment plan, which prevents them from forgetting to submit checks

Create reminders to help residents remember when rent is due, and that the payment is going to occur

Set up a quick way to pay property owners our company serves conveniently and quickly.
Optimizing the rental collection services for your renters helps protect your investment. Because we offer a secure and convenient way for residents to pay their rent, which ensures rent on time, every month.
Proper Maintenance and Upkeep
If you want to keep your Ballard investment looking like a half-a-million bucks (or more), you need proper property upkeep. Retaining residents also means ensuring your rental property is in the best condition at all times. Not only do residents want to see well-groomed landscaping, but they also don't want to deal with appliances or other things breaking down.
Property maintenance should occur year-round, including:
Renters having access to an emergency services line

Inspecting properties to ensure all appliances and infrastructure is sound

Working with professionals who are available 24/7 to handle repairs and replacements

Choosing the best contractors who feature affordable rates for maintenance, repairs, and installations.
By making maintenance a priority, you never have to worry about forgotten details for your Ballard rental properties or lists of tasks that never reach completion. Maintenance services not only make your residents happy, but they also keep them safe—and keep your income flowing!
Let Us Maximize the Return on Your Investment Property!
Real Property Associates has been offering expert property management services to Ballard and Seattle-area residents since 1991. Our team of professional management experts knows what it takes to attract and retain the best residents for your investment properties. In addition to helping you achieve your long and short-term financial goals, we also strive to nurture the success of your portfolio!
There's no reason to settle for less with the care of your Ballard rental properties. Get in touch with us today to see how our skills can work for you with a free management quote!