Lost Keys
If you are locked out of your residence during normal business hours, please call our office and we may be able to assist you. If you are locked out after our normal business hours, do not call the emergency pager number. Tenants will be charged additional fees if RPA Maintenance are called for lockout services.
We recommend calling a locksmith for after hours lockouts.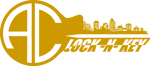 AC Lock-N-Key
They offer 24/7 lockout services for properties located from West Seattle and Renton to Lynnwood to Bothell and their rates range from $85-$95.