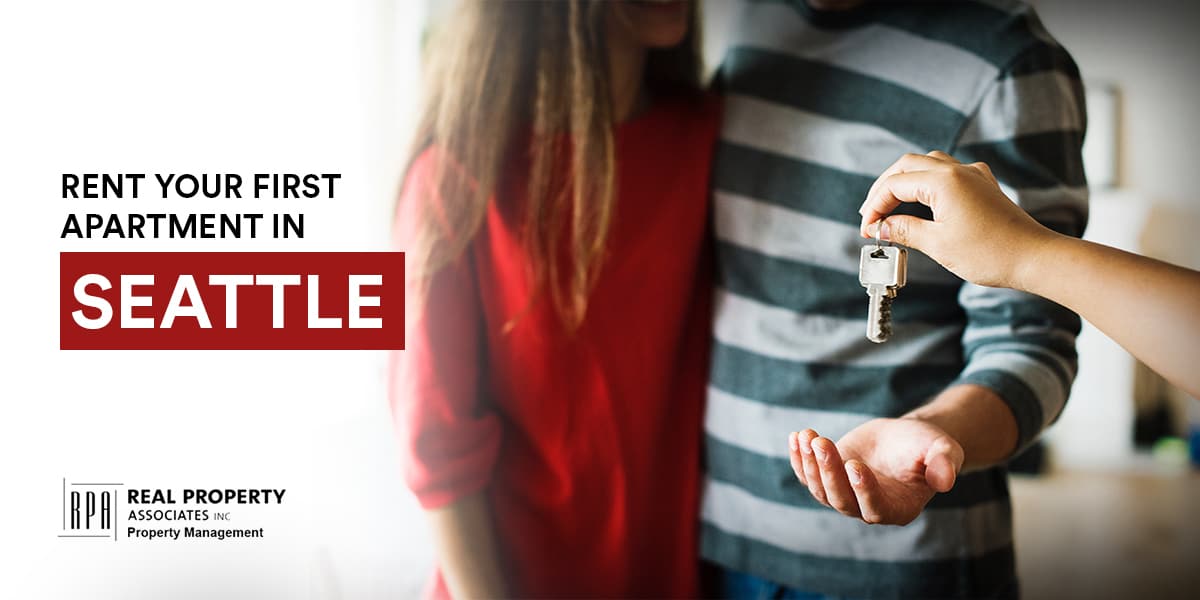 Are you searching for your very first Seattle apartment? At Real Property Associates, Inc., we're raising the bar for property management services and are ideally positioned to help you find the perfect place to call home. Of course, if you're getting out on your own for the first time, there are things you'll need to know when it comes to choosing the right rental, as well as rental property management in Seattle. Below, we'll walk you through a few critical tips when it comes to your first apartment.
The Right Rental Property
Before we get too far into the discussion, we should talk about the type of property you'll be looking for. Seattle rentals fall into a couple of different categories – find apartments for rent, but you will also find houses for rent. Often, the price of a home for rent is comparable to what you would pay for an apartment, although you'll lack the amenities that some properties offer, like a fitness center or a swimming pool. The tradeoff is that you get more privacy, more space, and a bit more autonomy. So, you'll want to decide whether to look for houses for rent or focus on apartments for rent in Seattle.
Check the Management Company
In most cases, apartments for rent in Seattle are managed by a third party. Rental property management in Seattle can vary greatly and will have a significant impact on your experience in the apartment. It's essential that you get a good idea of what the company is like to work with, and that information is best sourced from previous tenants. Dig into a property's history and tenant reviews. Look for things like:
Complaints about landscaping maintenance (specifically a lack thereof)
Complaints about parking enforcement
Complaints about amenity upkeep – is the pool dirty? Is the fitness center poorly maintained?
Complaints about trash service
Complaints about exterior maintenance
Complaints about interior maintenance and repairs
Know Your Budget
It's also critical that you go into the apartment rental process with your eyes open. Know your budget and don't let yourself be talked into paying more, because that will eventually come back to bite you in the end. Make sure you have an accurate idea of what you'll be able to pay for rent and for any necessities that are not included in your monthly rental payment. Not sure what that might include? We'll discuss it in the next section.
Know What's Included in the Rent
The only commonality that you'll find with all apartments for rent in Seattle is that you will, in fact, have to pay rent. What is included in the rent will vary significantly from one property to another, and is often influenced by the company providing rental property management in Seattle. What are some of the most common things included in the rent? They can include:
The actual rent for the unit
Cable or satellite TV programming (basic)
Access to and upkeep of property amenities like swimming pools and fitness centers
Basic Internet access
Trash service
Water and sewer costs
That seems pretty comprehensive, but there are quite a few things that don't fall on the list. One of the most costly is your electric service. If you want more than basic cable/satellite or you need high-speed Internet, you'll also need to pay more.
Finally, understand that some companies that provide rental property management in Seattle de-bundle the cost of property amenities from the rent in an attempt to help each tenant pay for just what they will be using. Some examples of additional fees you might find depending on the property in question include:
Pool access fee
Gym access fee
Meeting/conference space fees
Sauna/spa access fees
Pet fees/deposits
Know the Amenities That Matter Most
When you first start looking for an apartment, it's easy to get carried away. You'll find properties that offer all sorts of amazing extras, from incredible swimming pools to luxury spas. Sure, those can be wonderful things, but they can also mean the difference between an affordable monthly rent amount and something that you cannot afford.
The key thing is to know what amenities matter most to you and what you're willing to pay in order to access them. For instance, are you willing to forgo savings in order to enjoy those jogging trails? Are you willing to live on ramen noodles and sandwiches to enjoy that state of the art aquatic center?
Carefully consider your options and make sure that any amenities offered are worth the price that you'll pay for them.
Find the Right Property
The right apartment property doesn't just have the amenities that you need. There's a lot more that goes into finding the perfect place to call home. You'll want to consider a wide range of other factors before deciding on a particular apartment community, including:
What's the traffic outside the complex/community like during morning and evening commute times?
How easy is it for you to get to work or school?
What's the surrounding area like in terms of upkeep and maintenance? Crime?
Is there public transport easily accessible near the apartment or will you need to drive your own vehicle?
Do you have school-age children? What are the nearby schools like?
Know How Maintenance Works
When you rent an apartment, maintenance (inside and out) is the responsibility of the company providing rental property management in Seattle. Make sure that you know the process involved with having repairs done in your apartment.
Is the maintenance person a resident at the property? Does the management company need to call an outside provider? Do you call the office to report the problem, or do you need to submit a service ticket?
Each property has a slightly different process, so know what you'll need to do in the event that you require service, repairs, or maintenance.
Read Your Lease Thoroughly
If you're new to the rental situation, understand that your lease spells out more than just what you're obligated to pay per month. You'll find a wide range of other things covered in that document, including your responsibilities as a tenant, what's covered in your rent and what is not, where you pay your bills, what you can expect if you're late with the payment, what might make you lose your security deposit, and a great deal more. Give your lease agreement a lot of attention to help avoid headaches and hassles down the road.
Know the Property Rules
All apartment communities have their own set of rules that residents must abide by, and it is your responsibility to know what they are and how they apply to you. For instance, some properties will only allow moving trucks on-site for a maximum of two hours. Others require that you use a freight elevator to reach your apartment when moving, rather than the stairs or the main elevator. Make sure you know what rules you should follow from moving into moving out.
In Conclusion
In the end, finding the right company offering rental property management in Seattle is the best first step toward finding an apartment you'll love. The right management company will offer clear rules, explain your lease agreement to you, help you understand your obligations when it comes to property amenities, and more.