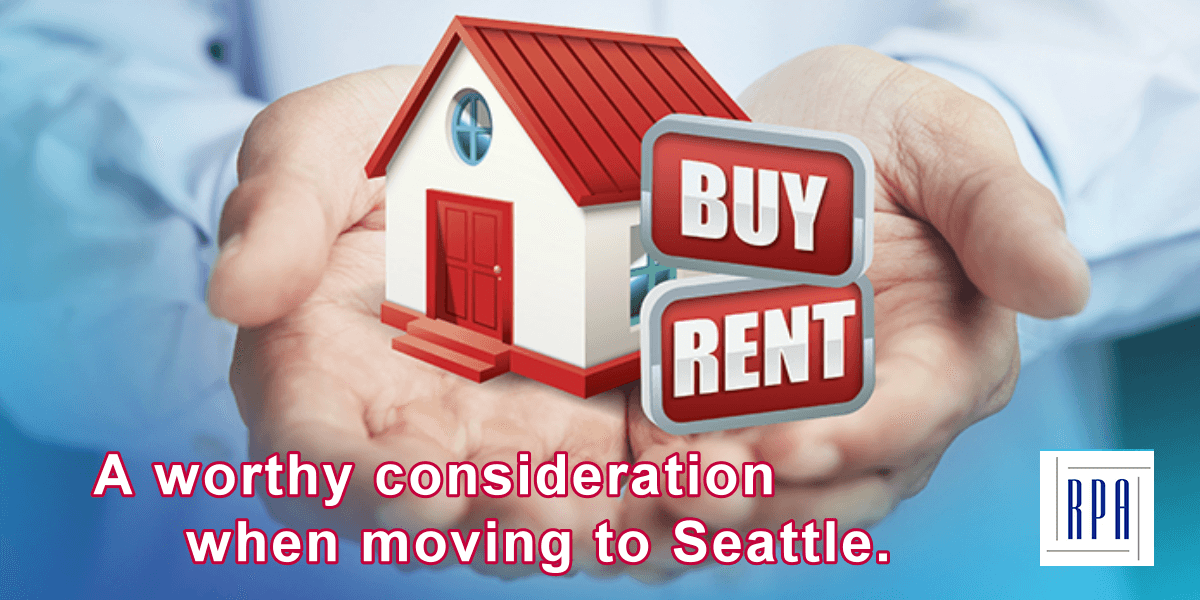 At Real Property Associates Inc., we focus on delivering simply better property management services, and for both Seattle area homeowners and renters. We also understand how challenging it can be to find the perfect place to call home in the Seattle area.
Should you buy a home? Is it worth it? Or is it better to consider Seattle rentals? As a leading Seattle property management firm, we do see renting to often times be the better option, especially when considering Seattle's current real estate market. But renting may not be the best path to take in all situations. In this guide, we will share things that you should consider before deciding whether to buy or rent a Seattle area home or apartment.
The Case for Buying a Home in Seattle
We'll start out with what was once the most common option – buying a home. At one point, homeownership was virtually every American's goal. Owning a home was seen as more than just having a place to live and raise a family. It was an investment virtually guaranteed to appreciate in value over time.
Then came the Great Recession and people all over the US (and the world, to be honest) watched as their home values plummeted, sometimes to the point that the property was no longer worth the loan they had taken out to purchase it.
Thousands of underwater homes glutted the economy. Buyers were foreclosed on. Banks struggled to sell homes they technically owned but did not want. It was a mess.
Thankfully, those days are now behind us, but that does not mean it won't happen again. The national economy (and the housing market) moves in a cyclical manner, up and down. What happens if you're neck deep in debt with a home loan when the economy goes belly up again? That's a real fear for a major percentage of would-be homebuyers in America.
Does that mean that buying a home outright is actually a bad idea? Not always and not for everyone. Purchasing a home is still the American Dream. There are plenty of advantages to owning a home, so long as you're buying the right home at the right time in your life.
For instance, every mortgage payment takes you one step closer to owning that home. Rent, on the other hand, is gone with no return on your investment. Additionally, your home will appreciate over time (in theory, at least) and you'll eventually be able to sell for more than you paid. Of course, you can tap into the equity you build up through other loans if necessary. Homeownership also comes with some tax advantages, and you're free to renovate it as you want.
However, more and more people are putting off the American Dream of buying a home, until later in their lives. Why is that?
Housing costs are rising faster than wages across the entire country.
Student loans and other debt can prevent you from qualifying for a loan.
Homeowners need an emergency fund to ensure that if they are out of work, they can pay their mortgage and utilities for at least three months.
Buying a home usually means staying in the same area for over three years, including working for the same employer.
Many people cannot afford real estate in urban areas (like downtown Seattle) where they are likely to find jobs that pay more.
You're solely responsible for all your maintenance, repairs, and general upkeep, which can cost thousands of dollars per year depending on the situation, the age of the home, and other factors.
Homeowner's insurance can be quite costly and it's not optional. It costs far more than renter's insurance.
Longer-term travel and relocation become difficult because selling a home is much harder than breaking a lease.
As you can see, there's a case for buying a home, but it is tempered by facts and conditions that did not apply in the past. Today, potential buyers face a broad range of hurdles that often make it simpler, easier, and even more affordable to work with a Seattle property management company to find a rental home or apartment. With that being said, there are other things you must know prior to making a decision, so in the next section, we'll look at the case for renting.
The Case for Renting
As we've established, real estate prices are rising across the nation, but the housing market does not perform the same way in every area. There are regions of the nation where costs are low enough to make buying a home a "no-brainer". However, Seattle is not one of those.
Money Crashers rated Seattle as the #2 city on their list of 10 US Cities Where It's Better to Rent Than Buy a Home, stating, "The Emerald City is as beautiful as it is pricey…If you're looking for a home in the Seattle Metropolitan area, you will likely pay between $400,000 and $500,000 to buy. Luckily, however, rental costs are much more reasonable." Curbed (a VOX Media production), backs that up, arguing that, "Seattle monthly rent is still less expensive than the monthly cost of ownership."
There are plenty of benefits that come with renting that you won't find with buying a home, as well. Those include the following:
Flexibility – Renting is usually pretty short-term, and leases can be broken when necessary. That gives you lots of flexibility to experience different areas of Seattle, to travel, and to live the life that you want without being tied to a 30-year financial commitment.
No Down Payment – Sure, you'll need to pay your first and last month of rent, plus a security deposit in most cases, but that still doesn't approach what you would have to pay as a down payment. Most homebuyers find that the down payment is the single most difficult hurdle to overcome.
You're Not Responsible – When you rent, you're not responsible for handling things like maintenance and repairs. The owner (or the Seattle property management company handling the home or apartment) will usually take care of those things.
Insurance Costs – As a renter, you only need a renter's insurance policy. Those policies are incredibly cheap and offer a lot of peace of mind while saving you hundreds of dollars every year versus homeowner's insurance.
You Can Afford More – One thing that often surprises renters is that they are able to afford more home when they rent than they could if they were buying outright. You can rent in nicer areas of town, rent larger homes or apartments, enjoy amenities you would not otherwise have access to, and more.
Obviously, renting is not for everyone, but it does make sense for more people today than at any other point in recent history. Combine the strong economy with the competitive employment situation, add in the desire to travel and enjoy flexibility within your life, and it becomes clear – renting a home or apartment can be an excellent decision. Now, which is right for you, a home or an apartment?
Choosing Your Path
Should you consider houses for rent? Should you limit your search to just apartments for rent? Are there really any differences between the two? Actually, there are some important things to know when considering the homes and apartments available through a Seattle property management company, and we'll discuss those here.
Apartment Rentals
When it comes to renting, apartments are likely to come to mind first. They're widely available, can be found in just about all parts of the Seattle metro area, and come with a number of benefits and advantages.
Apartment communities often have amenities unavailable with single-family homes, particularly those not located in planned neighborhoods, such as swimming pools, outdoor picnic/recreation areas, gyms/fitness centers, tennis courts, and more.
Apartment renters are not responsible for cutting their own lawn or maintaining trees, hedges, flowerbeds, and other grounds-related areas.
Apartment renters often have access to dumpsters that can handle larger volumes of waste and waste disposal is sometimes included in the cost of the rent.
Apartment properties can sometimes offer discounts on services like Internet connectivity and cable/satellite programming due to collective bargaining power.
You will usually spend less on utilities in an apartment than you will in a single-family home.
With that being said, there are some downsides to apartment life, including:
Apartments may only be accessible via exterior stairs.
Noisy neighbors can be problematic.
Parking may be limited and strictly enforced.
There's sometimes more traffic within an apartment community than within a subdivision.
Most apartment properties have very strict rules regarding pets.
House Rentals
Renting single-family homes has become much more popular in recent years as more and more people discover that they either cannot afford to purchase a home or that now is not the right time to make that investment. Renting a home rather than an apartment can offer some important advantages, including:
Single-family homes usually offer more space than apartments and that additional space does not necessarily come with a major increase in cost.
Rental homes are often quieter as your neighbors are farther away and you have no shared walls.
Rental homes generally offer more bedrooms and bathrooms than apartments for roughly the same cost in many cases.
Renting a home allows you to live a more suburban lifestyle with your own yard for children or pets to enjoy.
Renting a home means that the rental owner or Seattle property management company is responsible for repairs and some types of maintenance.
Many single-family homes have more relaxed rules about owning pets.
However, there are some drawbacks to renting a home rather than an apartment, including the following:
You will be responsible for yard maintenance – mowing the lawn, trimming hedges, maintaining flowerbeds, etc.
You may need to rent a home away from a suburban area to find one in your price range, which could mean longer commutes to work.
Unless you rent a home within a specific type of neighborhood, you will not have access to amenities like swimming pools or fitness centers.
There may be HOA rules that you're required to follow if you rent within a subdivision. HOA fees may also be included within your rent.
Making Your Decision
Now that we have illustrated why renting an apartment or single-family home may be the best decision for you, it's time to decide which option is the best fit for your needs, a house or an apartment. There really is no one-size-fits-all approach here. Your needs and your budget should determine the path you take. To help you on your way, answer the following questions:
How much do I value having access to amenities on property, such as a swimming pool or gym?
Am I prepared to maintain my own lawn? Do I own or can I afford to purchase a lawnmower and other necessary tools?
How far do I want to drive to work each day?
What impact will the areas I'm considering have on my children's school experience?
Do I own or want to own pets?
How much space do I need within the home?
How much do I value additional outdoor space?
How important is privacy to me? Do I want a significant buffer between myself and my neighbors?
Based on the answers to these questions, you should begin to see which housing option will suit your needs, lifestyle, and budget better. Regardless of whether you decide that apartment rentals or house rentals are better for you, working with the right Seattle property management company is essential.
We invite you to contact real Property Associates, Inc. at (206) 523-0300.