Updated September 2, 2022.
What are some of the best ways landlords can improve the ROI for their Seattle, WA rental properties? In addition to being an excellent landlord, it might be time for some property upgrades!
As a top provider of property management in Seattle, we're always on the lookout for ways to improve the ROI of the property owners we serve. Recommending upgrades is just one element of our role as a property manager!
In a competitive rental market, renters look for the amenities that make a property more attractive. How does your property stack up to the competition? An out-of-date property means you won't be able to charge the same rental rates when compared to similar properties. You could also lose your best residents to nearby properties with recent upgrades or the rental property aspects that renters really want.
However, not all upgrades are a good idea! Choosing the best upgrades means avoiding the mistakes of property updates that never pay off in the long run. Before you start a renovation project, consider these upgrade recommendations, and reach out to the experts at Real Property Associates to get a custom assessment of your rental property!
New Appliances
If your rental property still exhibits kitchen appliance relics from the 1980s, it's time for an upgrade. Sure, millennials happen to love the charm of a "vintage" property, even some "vintage" appliances. However, that rickety old range is going to cost you when they find out they can't recreate their favorite episode of The Great British Baking Show. You'll spend some money on new appliances, but there's no need to choose costly top-of-the-line appliances for an update that your residents will love!
Listing a Seattle property with new appliances can help you attract better quality residents.

You can also justify an incremental increase in the monthly rent amount with you bring the kitchen appliances up-to-date to the current decade.
Plus, there's a bonus perk! Investing in new appliances for your rental property qualifies as a tax deduction.
Technology Updates
These days, more people are working from home than ever before. Setting up your rental properties to help residents be more productive at home can make your property more competitive and desirable!
As your guide to property management in Seattle, we know that keeping a property current with these kinds of technology upgrades is a small expense that can boost your income:
Add electrical outlets that include USB ports in high-traffic areas

Update the doorbell to a wireless webcam to keep an eye on package delivery—and porch pirates

Consider adding a built-in office space with additional shelving, outlets, the right lighting, and room for monitors.
Hire an electrician if adding or moving outlets to make your property more home-office friendly! Also, consider what you can do to help residents have excellent internet and cell service connectivity. Make sure nothing about your property inhibits cell phone or internet service to your property. Keep tree limbs trimmed if you're operating a single-family home or add a wifi booster indoors to increase the range of the available signal.

Updated Paint Colors
You probably repaint your property during your Makeready Process, but how out of date are your colors? If you bought bulk paint years ago for all of your properties, it might be time to reevaluate your color scheme.
Avoid trendy paint colors that can make it difficult for residents to feel at home with their own decor.

However, do some research into popular neutral paint colors that help your properties feel modern and in-style.

Make sure your photographer can accurately capture the colors in your listing photos!
When potential renters can imagine their furniture and decor in your updated color scheme, your Seattle property will pop!
Bathrooms and Kitchen
The bathrooms and kitchen are two areas that can become costly renovations if you're not careful. We already talked about updating your kitchen appliances, but there are a few other upgrades to consider, as well.
Resist the urge to go full "HGTV style" during your rental home renovation, unless your property truly needs a full-property, deep-dive overhaul. Instead, consider some inexpensive bathroom or kitchen upgrades to improve the value of your property, attract better quality renters, and improve your bottom line.
Some of the best, inexpensive upgrades include:
New countertops (or cleverly renovated countertops)

Updated fixtures (lighting, faucets, and sinks)

New and beautiful toilets

Painted cabinets

New flooring.
With bathroom and kitchen updates, if you target the most-used areas and go with quality work, these rooms will be current for longer than it takes you to recover the renovation costs with a bump in your monthly rental price.
Curb Appeal
What is your property's first impression? If you're making updates to the interior, don't forget the exterior! A few simple upgrades to the curb appeal can make a big difference in helping your Seattle property stand out from the rest! Include these inexpensive updates:
Paint (or replace) the front door

Low-maintenance landscaping

Paint the exterior or update the siding

Add exterior security lighting
Small exterior improvements can also help stop your potential renter from scrolling past your property photos during an online search!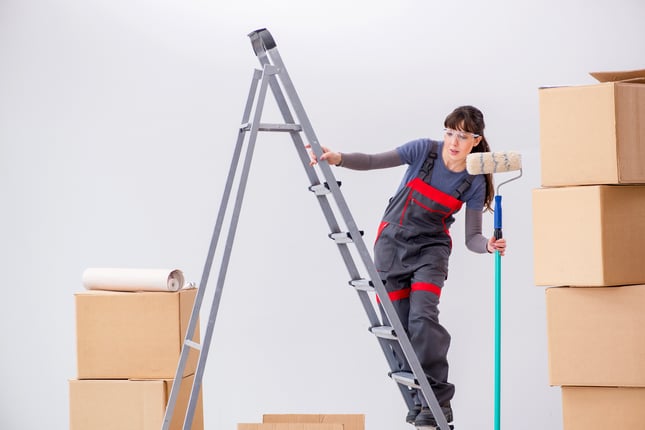 A Property Manager Helps Landlords Make Smart Upgrades
Keeping up with what renters want versus what makes the best financial sense for your Seattle properties is a challenging balancing act! Let the expertise of the best property management in Seattle help you make the best choices to attract better residents and boost your bottom line!
Real Property Associates knows what Seattle-area renters want most in a rental home. We also have a vetted list of contractors to make the best upgrades, increase your profits, and keep residents happy! When your property attracts your next ideal resident, use our Free Makeready Checklist to prepare your property for showtime!